MayaData is a storage company, we help companies to store their data. Our users expect us to keep security as one of the key design principles. We also have access or store data about our customers, partners and contributors. No matter what kind of data it is, it's always the best to pretend that all the data are sensitive and one should treat them with special care, because we care about all the people's data. The way how one should care about the data has also been well formed in past years into set of rules hidden under well-known shortcut GDPR.
To stay on the safe side and minimize the surface to any kind of attacks or data leakage, you may find useful the following set of rules (it's split to simple categories for better memorization).
2FA (or two factor authentication, or two step verification) refers to use of an additional secret in conjunction with your password. There are multiple ways how to implement 2nd factor. These can be hardware tokens (such as Yubikey), time based one-time-passwords (TOTP, Google Authenticator, Authy, also a lot of password managers have support for it) or even your phone (e.g. Google Prompts).
Adding your additional factor is typically trivial, we put together list of the most frequently used services:
Many services will also allow multiple different factors to be configured. For example, this is list of my other factors configured for Google Account: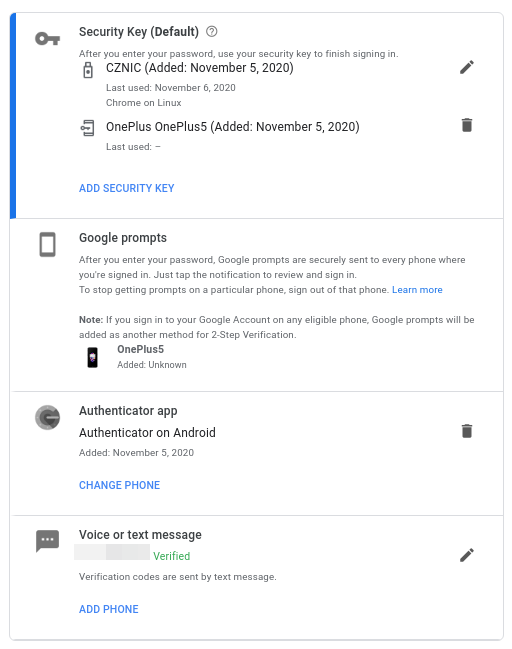 In case service or you don't have or don't want to have multiple different 2nd factor configured, services typically allow generating backup codes that can be used (one time each) instead of / as the 2nd factor. In that case it is recommended to generate those and store them securely (password manager) in case you lose access to your 2FA device.
The basic rule of thumb is to be CAUTIOUS, always and anytime! Even though it may sound stupid, if you spot something suspicious, like the fact that your WiFi authentication disappeared suddenly, it may mean that someone else replaced it with his own evil twin version to sniff your credentials.
Don't be afraid to ask, if you are unsure. It's better to ask stupid question then be sorry for not asking it.
These are just a bunch of basic rules that everyone should follow. For more inspiration, take a look at Gitlab's handbook security section or search the internet for other sources (for example advanced reading compiled by NIST).